Features: a pneumatic, reliable and efficient workhorse for all projects; compact and light weight for easy mobility; lockable casters.
Height: 48"
Width: 33"
Length: 33"
Weight: 300 lbs
Requirement: Minimum 100-CFM compressor at 30 PSI minimum, .5 ID, 2-lug, Chicago fitting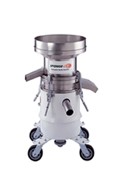 Minimum Rental Period
1 Week
70-E Recycler
Height: 51"
Width: 46"
Length: 42"
Weight: 650 lb
Requirements: Minimum 30-amp, 115-volt, single-phase, 60 Hz power source.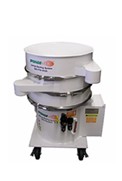 Minimum Rental Period
1 Week
ContinuousVAC-Recovery System CVR-P220
This continuous recycling and reloading system can save on labor, time and money.
Recover Sponge Media abrasive in the work area, automatically transport it to the
Sponge-Jet Recycler.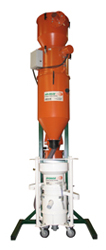 Minimum Rental Period
1 Week